This is one for lovers (said in my best Carrie Bradshaw voice) of cheesecake. I expect you're looking at the photos and thinking this is made from dairy products. Nope. This beauty is 💯% vegan goodness and tastes, looks and smells just like the cheesecakes you love.
The base is made from a decadent blend of macadamia nuts, medjool dates and desiccated coconut. Not a Nice biscuit to be seen! And the filling is made deliciously divine from a mixture of cashews, maple syrup, coconut oil, lemon juice, vanilla extract and water. I didn't think my blender could reach the creamy, smooth consistency needed to pass the cheesecake test but it passed with flying colours.
The recipe included a Salted Caramel Fudge Sauce which is meant to set as a firm layer on top of the cheesecake. I wasn't able to make this work for me. It calls for coconut butter and I used Nuttlex coconut butter, which might not have been the right product (see note). No problemo, I made a warm Salted Caramel Sauce and a Maple Butter and didn't stop there. That Maple Butter was crowned with popcorn and macadamia nuts. Because every vegan cheesecake deserves to be crowned 🍿🌰
🌱 Vegan substitutions aren't required as the recipe is vegan. If you have luck with the Salted Caramel Fudge Sauce using Australian ingredients, please let me know as I'd like to take another crack at it.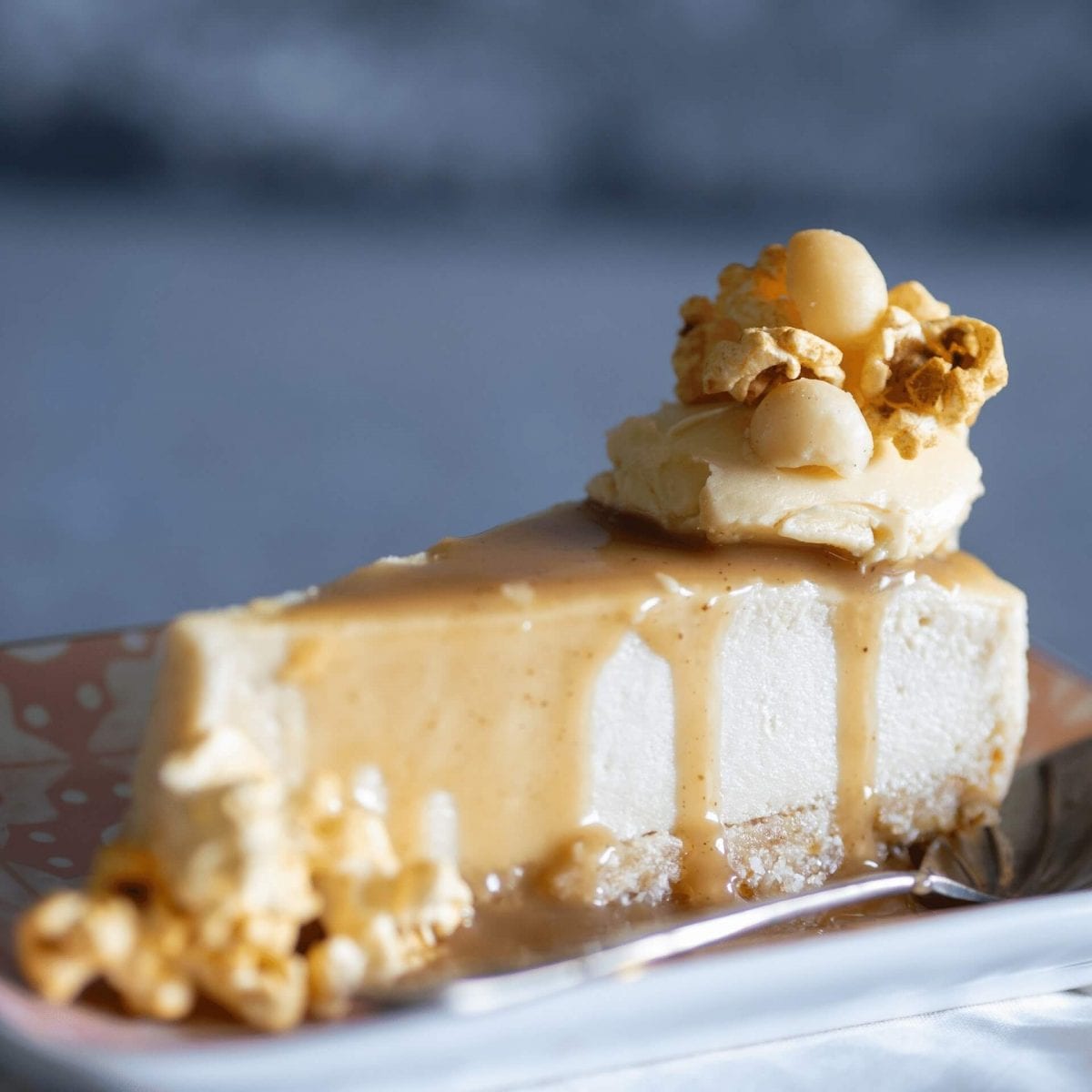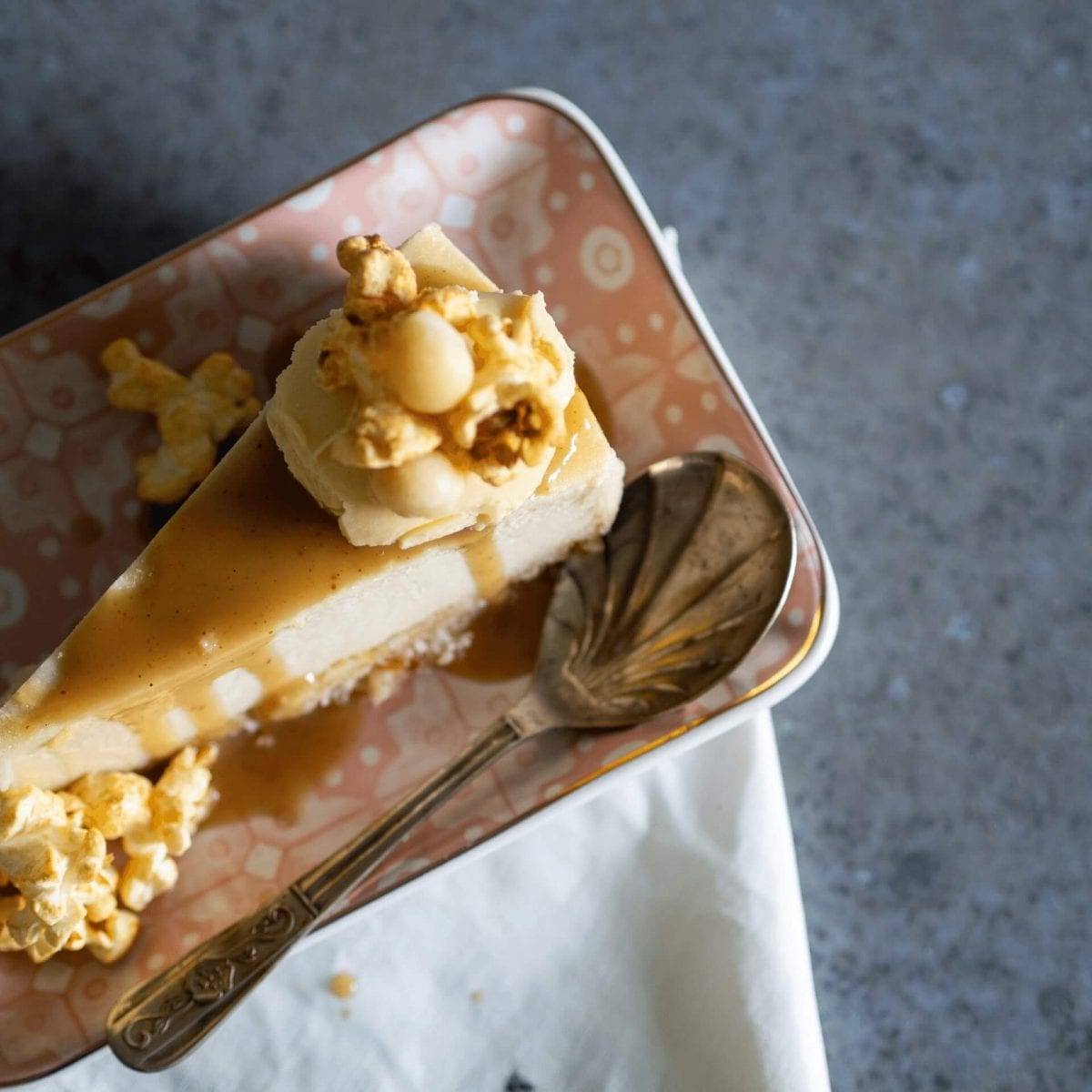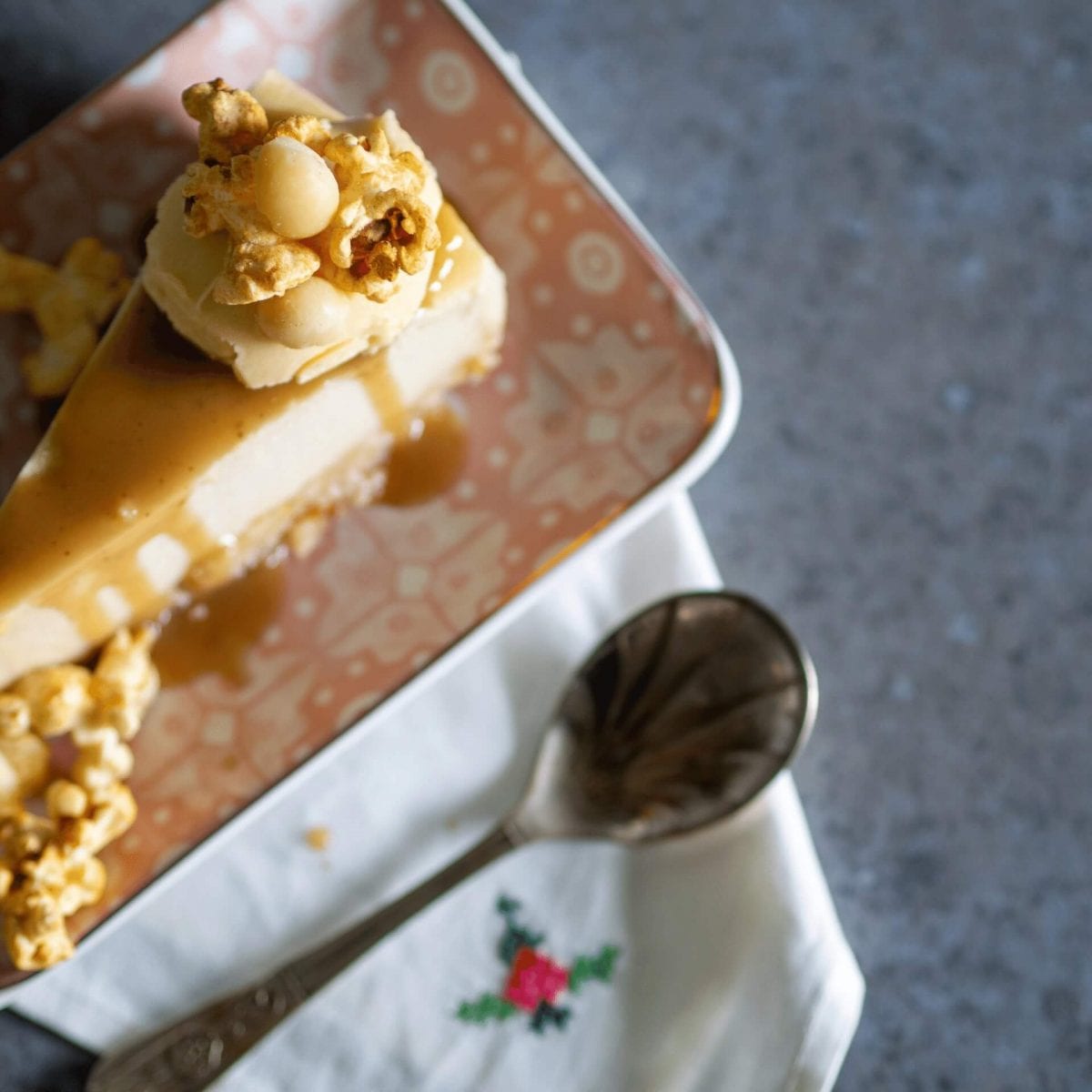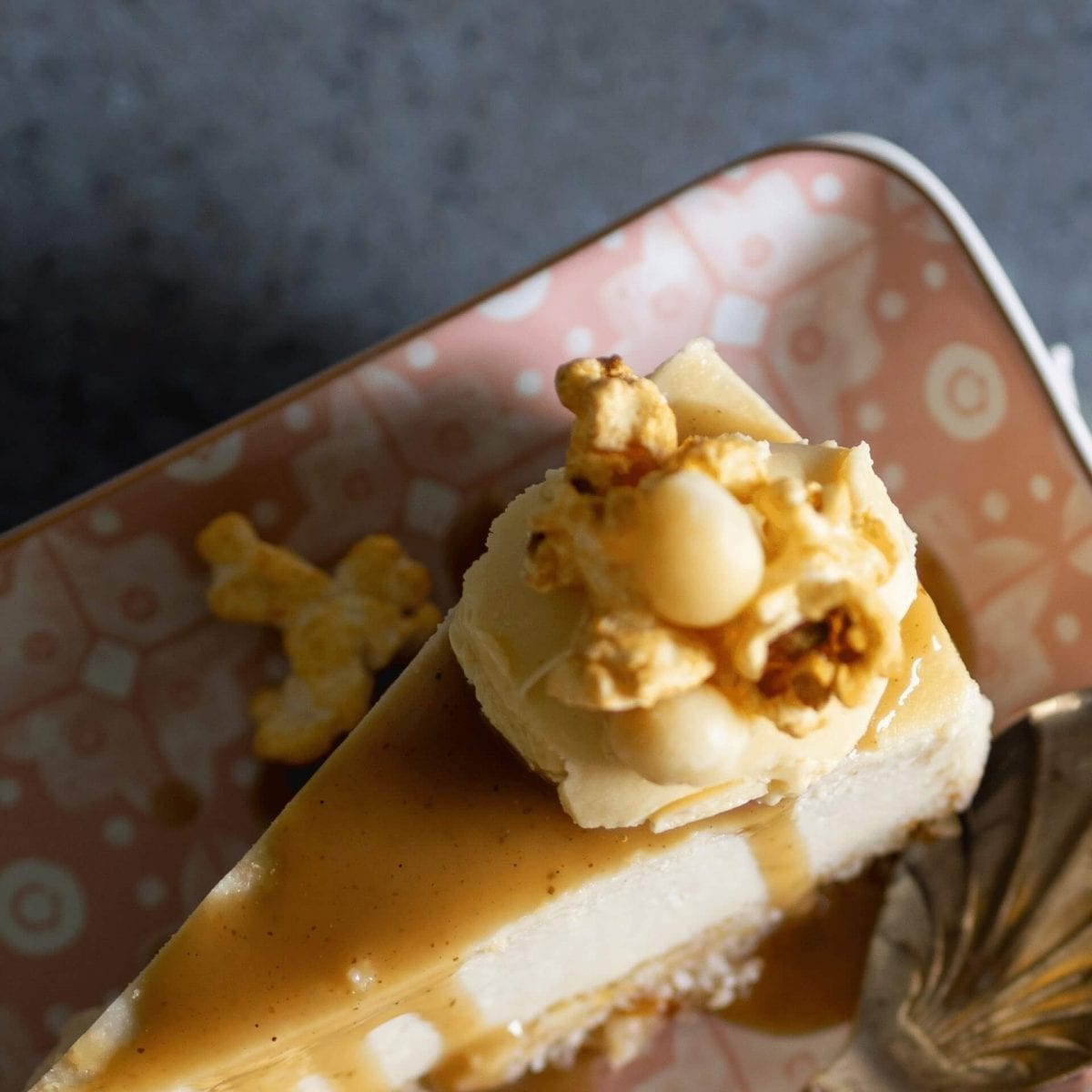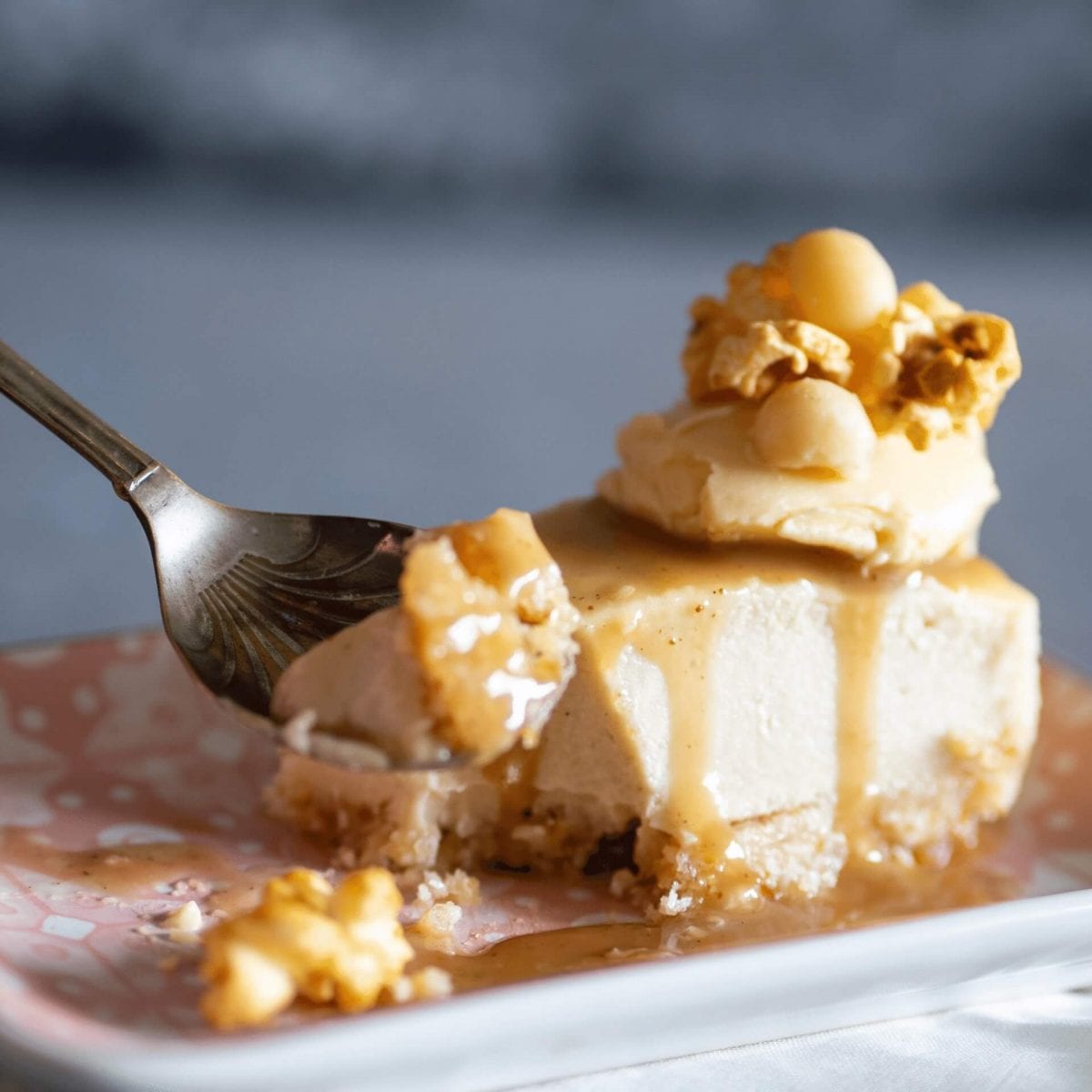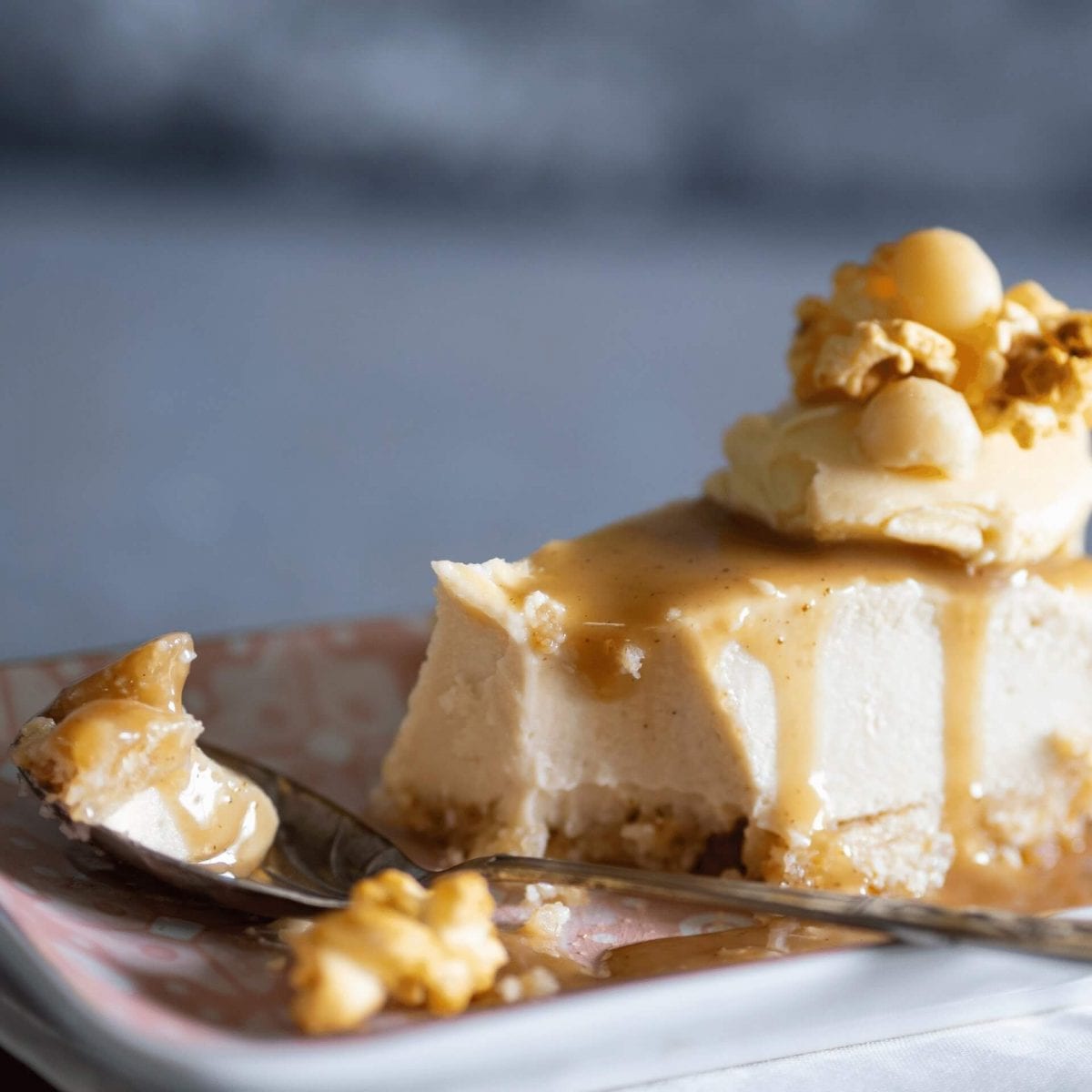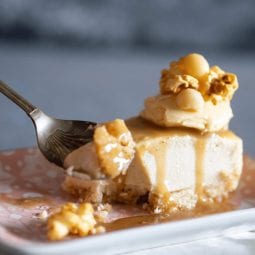 Cheesecake with Maple Butter & Salted Caramel Sauce
by Alison at Loving It Vegan
This cheesecake is pure decadence. Alison describes it as the best vegan cheesecake ever! It's rich and creamy and topped with a salted caramel fudge sauce. So much like the 'real thing' you'd hardly believe it.
Equipment
20cm Springform Pan

Blender or Food Processor
Ingredients
Full ingredient list and method at Loving It Vegan
Notes
This recipe is somewhat expensive to make given the large amount of nuts required. I also had trouble with fudge sauce, but Alison (recipe author) pointed out where I went wrong with this. This cheesecake is a show-stopper, even with the adapted salted caramel sauce. It's very (very) rich and will appeal to those with a sweet tooth!
We appreciate the work of recipe developers and acknowledge the tremendous effort required to publish their creations, which is why we will never republish a recipe without prior permission. Please support the recipe creator by purchasing a copy of their cook book, or visit their website for the original recipe. The Modern Vegan Guide is your recipe companion, assisting you to veganise recipes and provide an honest review from our test kitchen.
Did you make this recipe?
Please let me know if it turned out for you! Leave a comment below and tag @modernveganguide on Instagram and hashtag it #modernveganguide