by Alice Zaslavsky, from In Praise of Veg
I need to start this post with a disclaimer: I do not like kale.
In fact, I'm very late to the kale party but recently have become *obsessed* with crispy kale chips. A favourite cafe in Preston we were dining at served crispy kale chips with my breakfast and I couldn't get enough. I had to go back the following week to order the dish again just to quell my craving.
⠀
Fortunately my trusty, modern kitchen companion 'In Praise of Veg' has a recipe for Salt and Vinegar Kale Chips. And, I'm baking these bad boys like I'm a fitness junkie measuring my calorie intake, rather than a 50 year-old whose greatest consideration for calories is "no calorie is a bad calorie" (unless it's animal derived, of course – but that's a whole other conversation). All you need is the kale, 5 easy ingredients you're likely to have in your cupboard and within 15 minutes you'll been snacking on these little crispy leaves.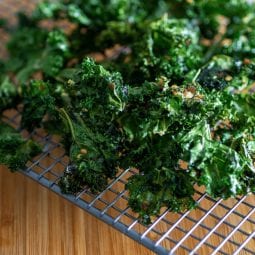 Salt & Vinegar Kale Chips
Equipment
In Praise of Veg Cook Book

Baking Trays

Wire Racks
Instructions
In Praise of Veg Cook BookPlease buy this book. It is without doubt, the most glorious cook book I've ever owned. I find myself reaching for it even when I'm not looking for recipe inspiration to simply soak up the joyousness of it's pages. I've learned so many cooking tips and invariably have a chuckle as Alice brings her engaging personality to light through each of the pages.

Vegan Substitutions

Vegan substitutions weren't required for this recipe, it's vegan friendly. You'll find the full ingredient list and method on page 360 of In Praise of Veg.
Notes
This recipe is so easy to make and is the ultimate snack for lovers of kale. You'll most likely even have the kale-deniers asking for some, as these little leaves are more like chips than a veg disguised as a tasty snack!
We appreciate the work of recipe developers and acknowledge the tremendous effort required to publish their creations, which is why we will never republish a recipe without prior permission. Please support the recipe creator by purchasing a copy of their cook book, or visit their website for the original recipe. The Modern Vegan Guide is your recipe companion, assisting you to veganise recipes and provide an honest review from our test kitchen.
Did you make this recipe?
Please let me know how it turned out for you. Leave a comment below and tag @modernveganguide on Instagram and use the hashtag #ModernVeganGuide