Every time a product needs to be replaced in our home, I challenge myself to find the better alternative. Almost all commercial cleaning products have been eliminated from our house, hurrah!
When I started this process a number of years ago eco-products were in somewhat sparse supply. Now we are spoiled for choice of products that shifting away from single-use plastics, are vegan and generally more eco-minded.
Refill Options for eco-wins
Concentrated products with refillable containers are a win for all. Non-concentrated soaps and detergents comprise between 60 – 90 per cent water. Those bottles of liquid hand soap, dishwashing detergent, washing detergent you're lugging home from the grocery store could contain as much as 90% water.
Not only is that a lot of water, it's a lot single use packaging waste. Hundreds of millions of consumers use soaps in single-use plastic bottles. This is contributing to hundreds of millions of tonnes of plastic ending up in our oceans and in landfill every year.
When shopping, choose to buy concentrates with refillable containers. Manufacturers win with lower shipping and production costs, the planet wins as single-use plastics are reduced and we win for doing very good things.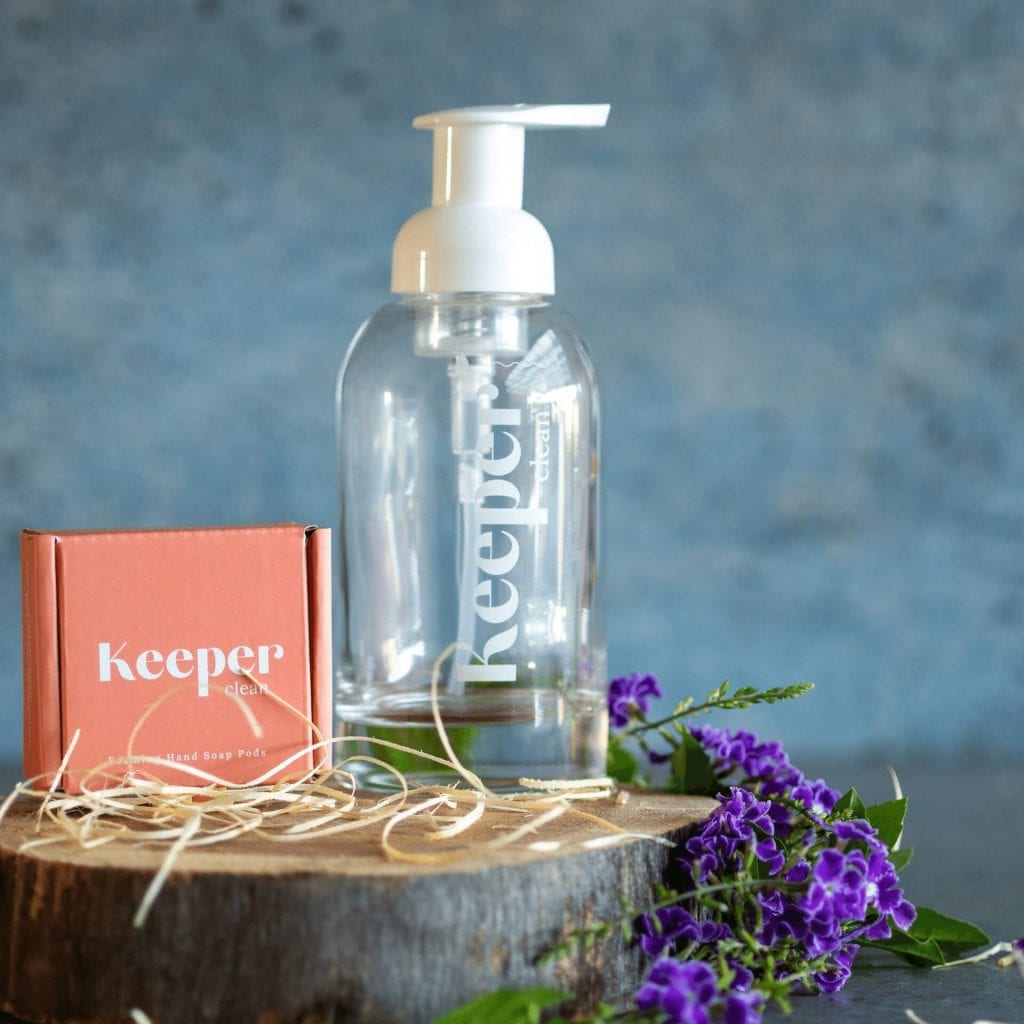 Keeper Clean – The Eco-Soap
I first discovered Keeper Clean when I was researching vegan soap. I regularly search online for new products that are able to replace less-friendly or outdated ones in our home, and was delighted to discover Keeper Clean.
Keeper Clean has so many benefits beyond being vegan. It's:
Hypoallergenic – formulated to be compatible with all skin, even those with sensitive types.
pH balanced – made within a healthy pH range to match human skin. Not too acidic, not too basic, it's just right.
100% biodegradable – 100% dissolvable in water and plant based. It will break down by bacteria and microorganisms in water.
Vegan and cruelty free – no animal products are used in the Keeper Clean formula and it's not tested on animals (except Bonnie, the Founder).
No SLS/ SLES – SLS is a known skin irritant and present in many hand soaps.
No nasty chemicals – Keeper Clean is made with you and the planet in mind.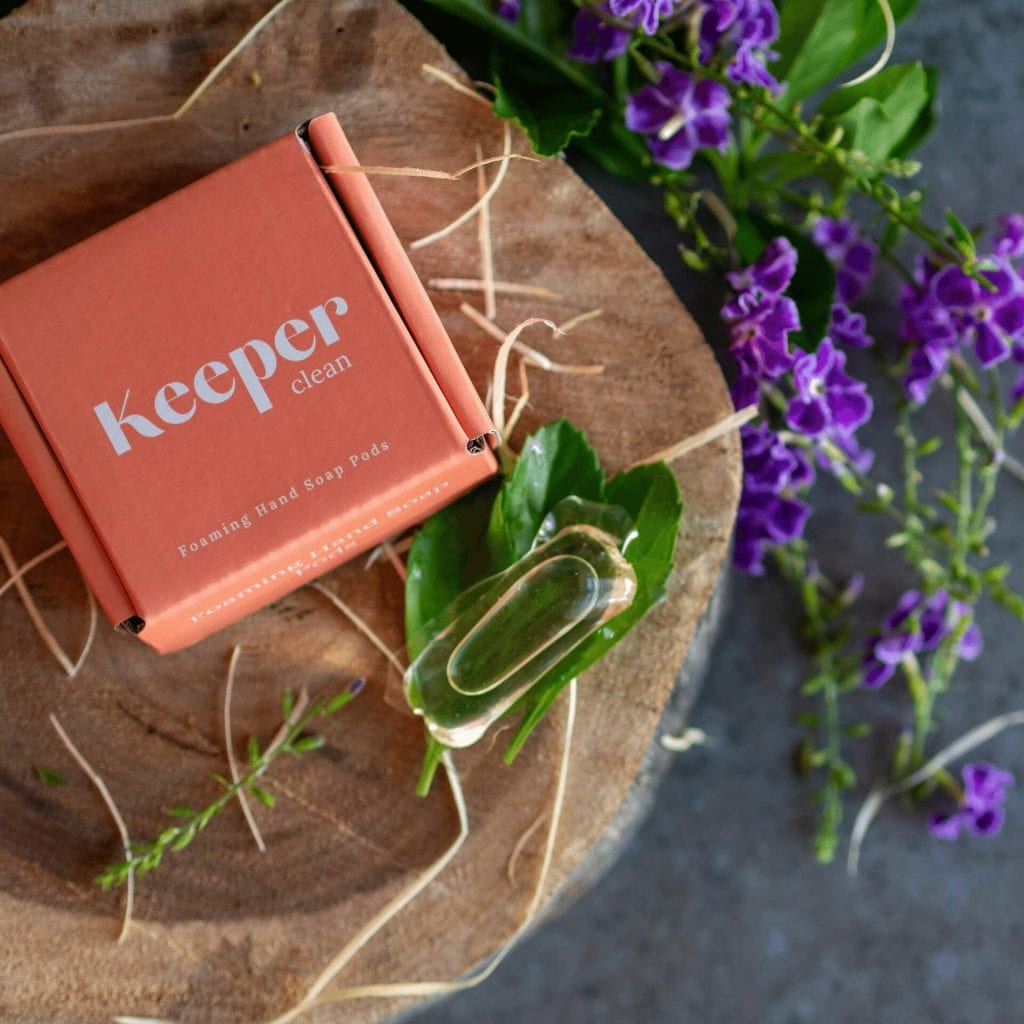 ALL. OF. THE WINS. Products in our home, especially ones we use on our bodies, do not earn my spending dollar unless these boxes are ticked. I've spent around five years purging our home of nasties and but for a few random products around the house, we do really well in making informed purchasing decisions.
So, when Bonnie offered me the chance to test the product prior to launch, I jumped at it.
MVG Review: Keeper Clean – The Eco-Soap.
100% will be replacing my current product with Keeper Clean.
In addition to the benefits above, I loved:
the simple styling of the bottle, no OTT branding or decals.
the neutral tone of the glass bottle, it fits nicely with all decor.
ease of mixing the product. I mean, it was filling the bottle with warm water and dropping the pod in. I didn't even read the instructions (whoops).
the pump is sturdy and works well, not like some other dispensers I've tried.
the customer experience – from postal packaging, product packaging, consumer guides and of course the product, it was a gold-star experience.
THE PRODUCT – Keeper Clean has a gentle foam as it's dispensed from the bottle and lathers nicely. It's softly scented with aloe vera and doesn't leave any residue. I absolutely love this product.
Supporting small Australian businesses that are doing good things is really important to me. The incremental changes we can each make in our consumer purchases have huge impact on the planet. Being good to the planet, good to people and good to animals is simply the only way to live to protect our future.
You can find out more about Keeper Clean on Instagram here and shop the pre-sale here.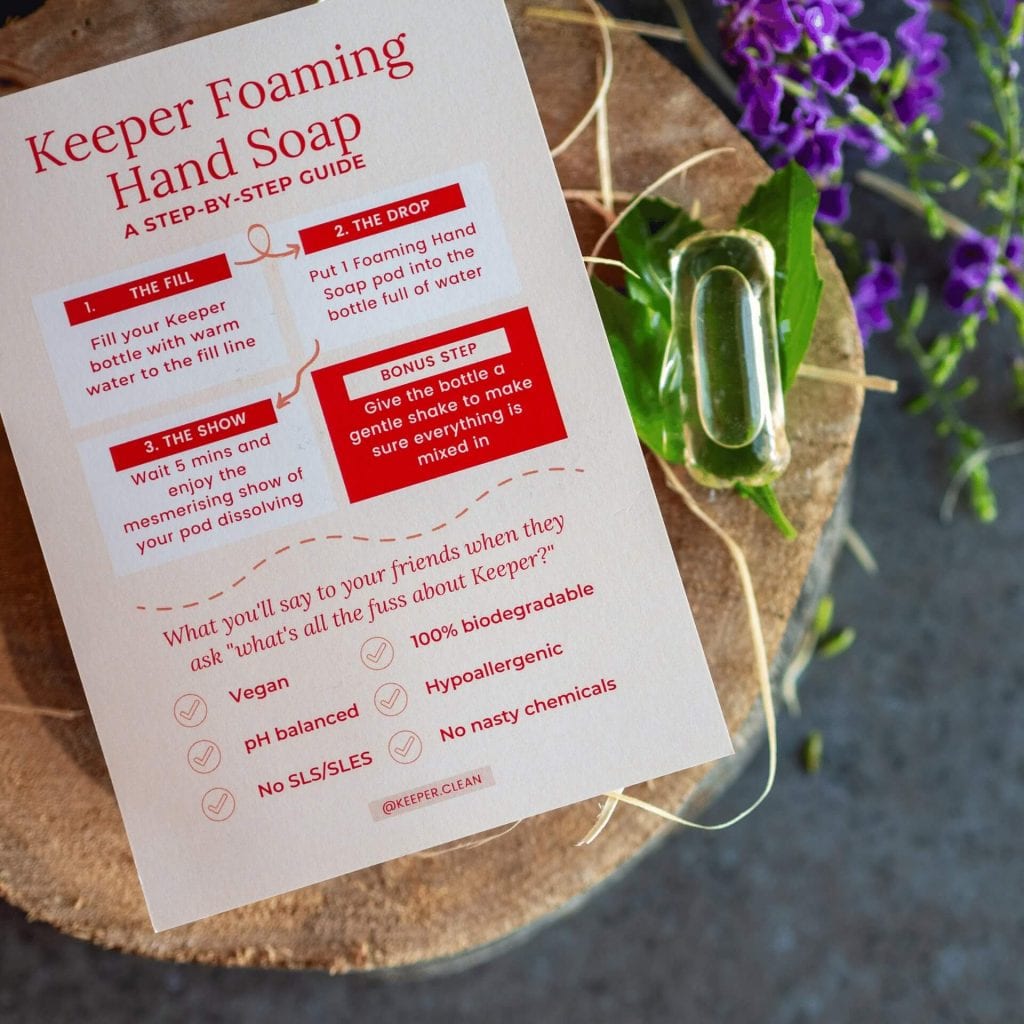 Product gifted for editorial consideration. If it's made it to a MVG Review, it means it's a product I would buy for myself.
Did you try this product?
Please let me know if you tried this product! Leave a comment below and tag @modernveganguide on Instagram and hashtag it #modernveganguide #MVGReview